In April Charlcombe Homes joined forces with the charity Habitat for Humanity to become Hope Builders.
We are now delighted to announce that we have made a contribution from our Lansdown Ridge development and that this has enabled four families to have decent homes to live in.
Here is Trevor Grant from Hope Builders presenting us with a certificate.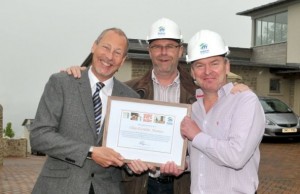 For more information on Hope Builders and their fantastic initiative please go to Habitat For Humanity's Website