About Us
Charlcombe Homes is a private house building company based in Bath, run by Directors Alastair Gibson and John Hartley, who are both Chartered Surveyors with many years of experience in residential development.
Alastair Gibson
Managing Director
John Hartley
Technical Director
We build a small number of houses each year, generally in the £1M+ price range, operating on no more than two sites at any time. This allows us to take a very 'hands on' approach and we are passionate about delivering exceptional quality homes that both we, and our customers, can be proud of.
We work with top quality architects to produce innovative and pleasing designs to suit the location. We recognise the importance of feminine perspective in the design process, so we involve our wives in critical aspects of all of our projects!
We take direct control of the building process, acting as the main contractor, and our site management staff are given every incentive to take pride in their work by receiving a share of the profit from each development. The quality of the building work at our Lansdown Ridge project has led to us winning a Bath & North East Somerset Council Building Control Award in the Build Quality (new dwellings) Category.
All of our houses come with a ten-year defects guarantee from Checkmate Insurance and we subscribe to the Checkmate Consumer Code for Builders of Homes for Sale.
We believe in giving something back and are pleased to support a number of charities. Please see our Corporate Social Responsibility page for more information.
Should you decide to buy one of our houses you are assured of personal attention from both of the company's directors. Your satisfaction is our reputation!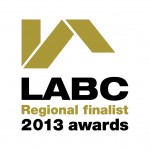 Charlcombe Homes are LABC Regional Building Excellence Award Winners for the West of England in the Small Housing Development Category